This research report was produced by The REIT Forum with assistance from Big Dog Investments.
Investors hunting for a high dividend yield and a solid company need to be capable of buying after a decline. The technical for these stocks will be terrifying.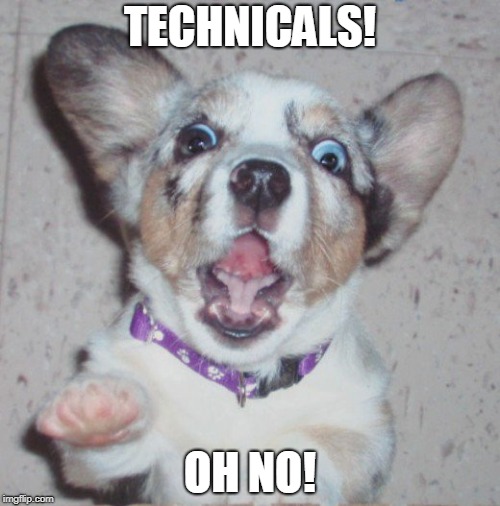 However, the dividends are solidly covered and the declining share price is offering investors a much better entry point.
Altria Group
Altria Group (MO) is a dividend champion on sale. The entire tobacco sector was victim to a massive decline following an earnings release from Philip Morris (PM). Analysts were terrified by the lower shipment volume for IQOS products.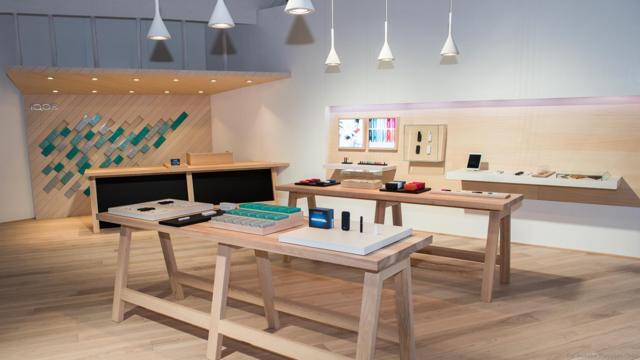 Source: MO investor presentation
Investors can argue that Altria Group was too expensive before or too cheap today. It is not reasonable to believe that the future value of cash flows swung so wildly in a couple months.
My view is simple. Altria Group is very attractive.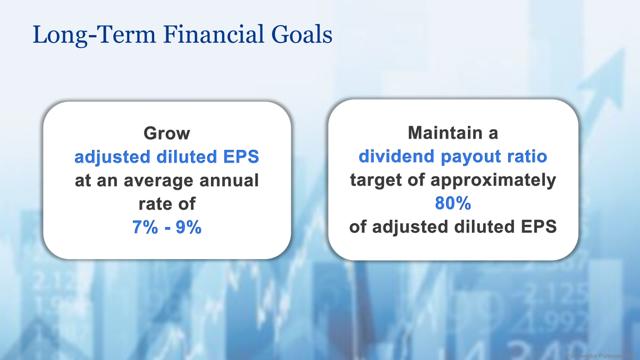 Source: MO investor presentation
The company's dividend yield is much higher than we have seen in the last few years and the multiple of forward earnings is extremely low. Altria Group could simply repurchase shares with their excess cash flows and it would drive an acceptable level of earnings growth. In this scenario, I am simply assuming that earnings across the company remain flat while share buybacks reduce the share count.
Bears will suggest that earnings would decline, but we have seen zero evidence of that over many years. Investors should be looking forward, but earnings guidance for 2018 indicates significant growth again relative to 2017.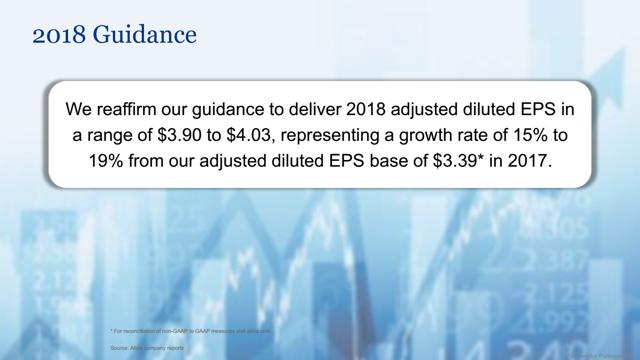 Source: MO investor presentation
Investors shouldn't expect Altria Group to grow earnings as fast as a technology company. I don't expect them to keep up with Facebook (FB). They are not rapidly acquiring new users. However, the high dividend yield and low earnings multiple still make it a compelling option. Tech investors focused on dividends may also be looking at Microsoft (MSFT) or Intel (INTC).
The rapid growth for Microsoft has been a large surprise for me. I did not expect the company to grow their share price so rapidly. However, Microsoft doesn't fit my investment strategies. I prefer companies with more stability in their earnings and cash flow.
For instance, Pepsi (PEP) and Coke (KO) have solid dividend yields and steady earnings. 3M (MMM) and McDonald's (MCD) also have solid growth and the ability to withstand recessions quite well. Investors who want to include more allocations to consumer staples in their portfolio could consider the Vanguard Consumer Staples ETF (VDC) or some of the major stocks the ETF carries such as Procter & Gamble (PG), Walmart (WMT), Costco (COST), and CVS Health Corp. (CVS).
Tanger Factory Outlets
Tanger Factory Outlet (SKT) reported earnings on 5/01/2018 after the market closed. While the headline FFO metrics looked good, the guidance revision for the year was negative.
Old Guidance for 2018 full year FFO: $2.43 to $2.49
New Guidance for 2018 full year FFO: $2.40 to $2.46
A decrease of $.03 at the midpoint.
Same-store NOI guidance was cut from a range of (-1% to 0%) to a range of (-2.5% to -1%).
A decline in expected occupancy is one of the largest factors in play with management guiding for average occupancy in the range of 95% to 95.5%, which is down from their initial guidance of 96%.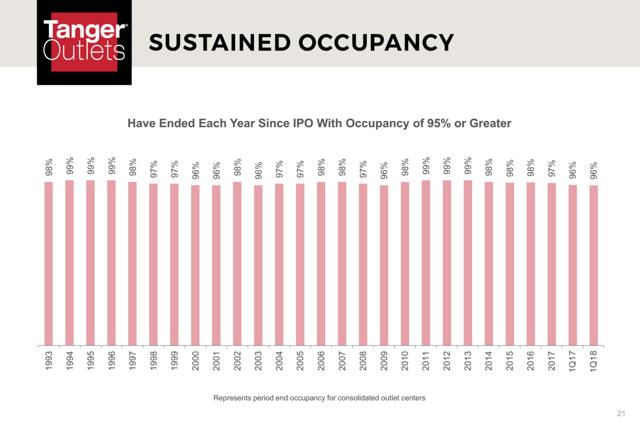 Source: SKT investor presentation
There was some good news, though.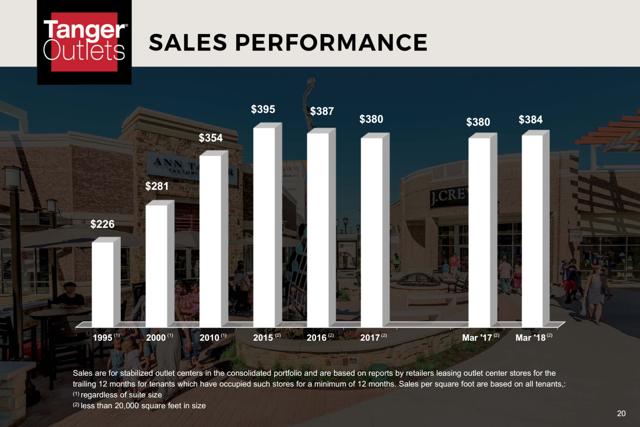 Source: SKT investor presentation
Sales per square foot were up from $380 to $384. That's a small positive, but it still helps.
Releasing spreads are a bit of a headwind. For new contracts and renewals greater than 12 months, the numbers remain positive. The shorter-term leases include tenants that are already in bankruptcy or where SKT is planning to work out a longer deal with the tenant or find a replacement. These leases are signed to keep occupancy higher but aren't designed to be a long-term solution.
The long-term fundamentals haven't shifted significantly. The decline in same-store NOI guidance and FFO guidance is a clear negative that warrants a decrease in price targets of 2%, but valuations were already quite attractive.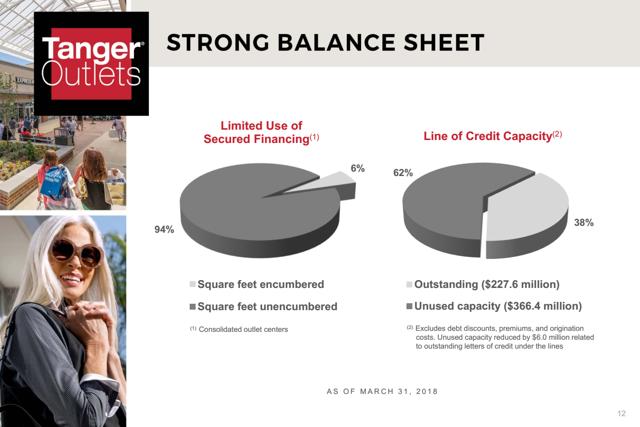 Source: SKT investor presentation
SKT still has a strong balance sheet.
Tanger Factory Outlet – Earnings call
The earnings call for Tanger Factory Outlet was much better than the earnings release. Management guided that most of the reduction in same-store NOI reflects the earlier closure of Toys"R"Us, Nine West, and one Office Max. The Office Max location is already under contract to become a new location for West Elm.
These closures are happening earlier than expected, but the closures were expected. It is only the timing that changed.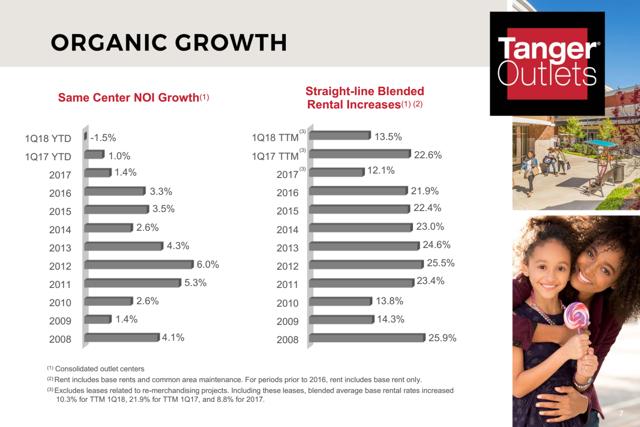 Source: SKT investor presentation
Consequently, same-store NOI is down and the forecasts for occupancy are down. This is a challenge, but it shouldn't have a material impact on projections for 2019. Since they are getting those tenants out earlier, they should have more opportunities to get the space leased and ready for the new tenants in this year.
Full analysis on SKT and information on the earnings call can be found on The REIT Forum. (subscription to The REIT Forum required)
Invesco Mortgage Capital's preferred shares
Invesco Mortgage Capital (IVR) has preferred shares which are solidly covered. I will be focusing on the preferred shares as an investment, not the common stock.
IVR is primarily invested in Agency RMBS: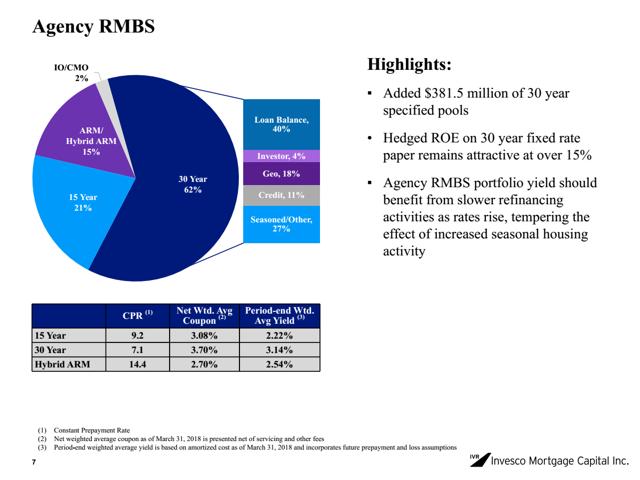 Source: IVR investor presentation
However, they also hold commercial and residential assets: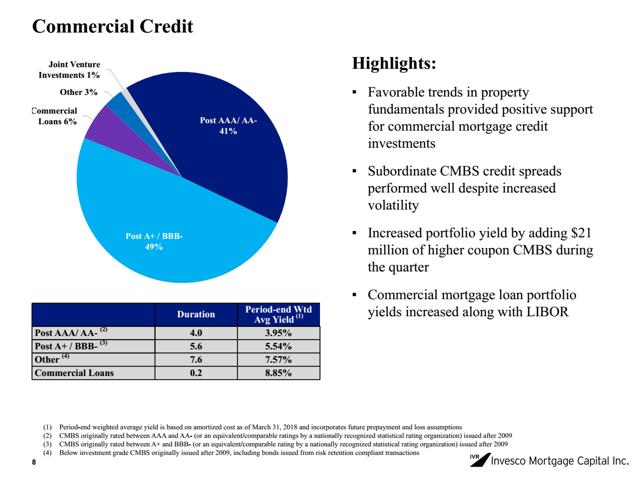 Source: IVR investor presentation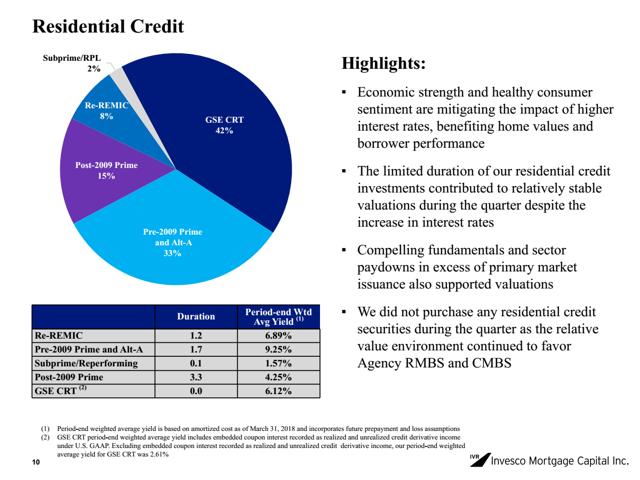 Source: IVR investor presentation
The majority of IVR's financing comes from repurchase agreements. The remaining financing (under 15%) comes from a combination of preferred stock and FHLBI advances.
Preferred shares
IVR has three preferred shares we will be looking at:

Source: CWMF's subscriber spreadsheet (subscription required for 50+ preferred shares and baby bonds with comparing prices)
I had a buy alert for subscribers when IVR-C was $0.40 cheaper for a bigger dividend yield. However, IVR-C is still materially better than the A & B series:
Since all three preferred shares come from the same company, they all have the same risk level. I do not consider these preferred shares to be a good fit for conservative investors. Preferred shares with a risk rating of "4" are better used as trading securities.
IVR-C is trading at the largest discount to call value by a material margin. Further, it also has the best-stripped yield at 7.92%.
Maybe it loses on other metrics?
Nope:

IVR-A carries a 7.82% stripped yield and has basically no call protections. The company could simply give notice and issue a call effective in 30 days.
IVR-B has call protection on the calendar until late in 2024, it trades a little over call value and has a yield of only 7.74%. Investors could reasonably argue that because IVR-B has call protection, it deserves to trade at a slightly lower stripped yield.
IVR-C has the highest stripped yield at 7.92% and the most call protection on the calendar lasting until 9/27/2027.
As if IVR-C wasn't significantly better than the other two already, it also has a hedge against rising interest rates:

Of these three preferred shares, IVR-C is the only one with an FTF (fixed-to-floating) rate after call protection ends. This means that after 9/27/2027 it will go from a fixed dividend rate to 3-month LIBOR + 5.289%. IVR-C has jumped back and forth between the buy range and the hold range. At the moment of pulling this chart, it was in the hold range, but it has often been within the buy range.
Disclaimer: No financial advice. Investors are expected to do their own due diligence and consult with a professional who knows their objectives and constraints.
About The REIT Forum
If you're looking for the best deals on REITs and preferred shares, consider joining The REIT Forum. We offer investors risk ratings and fundamental analysis. The REIT Forum practices more defensive investing with higher yields and lower beta. Join today!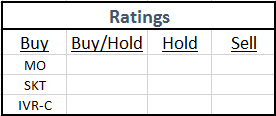 If you enjoyed reading this article and want to receive updates on our latest research, click "Follow" next to my name at the top of this article.
Disclosure: I am/we are long MO, PM, IVR-C, SKT, WMT.
I wrote this article myself, and it expresses my own opinions. I am not receiving compensation for it (other than from Seeking Alpha). I have no business relationship with any company whose stock is mentioned in this article.
Additional disclosure: CWMF actively trades in preferred shares and may buy or sell anything in the sector without prior notice. Tipranks: See ratings table.