We're returning to a very different theme for us – unlike most of our other articles, this is an article about a stock with no common dividends.
"Historically, we've chosen to use our cash to de-lever and to grow the business rather than pay dividends. One of the terms of our refinancing in the fall of last year is that we are unable to pay dividends on common stock until January 2021 unless we raise equity capital." (Source: Q1 '18 earnings call)
But don't despair; Global Ship Lease (GSL) has a preferred series with a very attractive 9.13% dividend.
Profile:
Global Ship Lease is a containership lessor publicly traded since 15th August 2008 on the New York Stock Exchange. GSL is a Marshall Islands Corporation with administrative offices in London. It owns a fleet of high-quality, well-maintained containerships that are leased out under fixed-rate time charters.
GSL was created through a $1 billion spin-off from CMA CGM, the third-largest liner operator in the world, effected by a merger in August 2008 between the CMA CGM-owned entity and Marathon Acquisition Corp. (Marathon), a listed special purpose acquisition corporation (SPAC). Marathon was established by Michael Gross, chairman and CEO of investment firms Solar Capital (SLRC) and Solar Senior Capital (SUNS) and a founder and former senior partner of Apollo Management L.P, a leading private equity firm. Mr. Gross is GSL's chairman of the board. (Source: GLS site)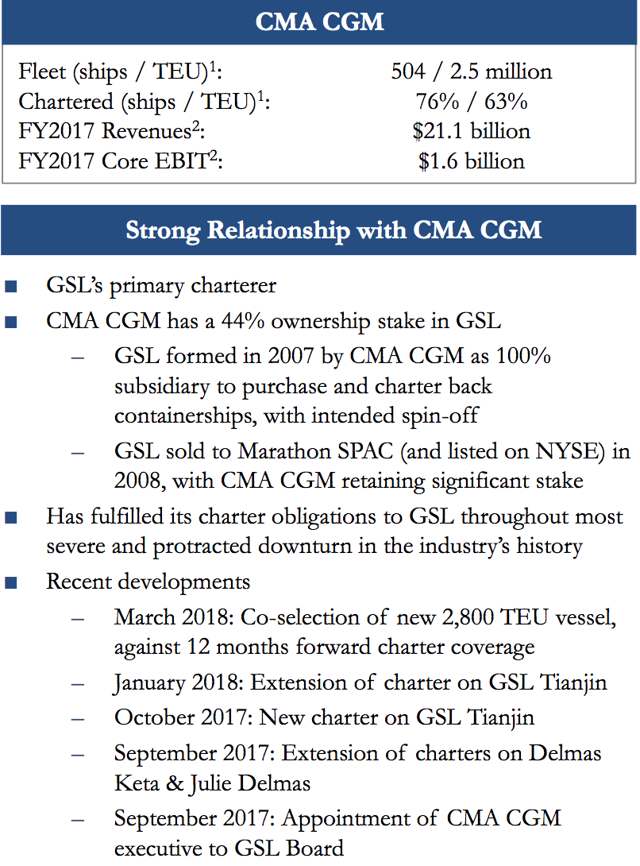 (Source: GSL site)
CMA is one of the world's largest shipping lines, with well over 2.5M TEU.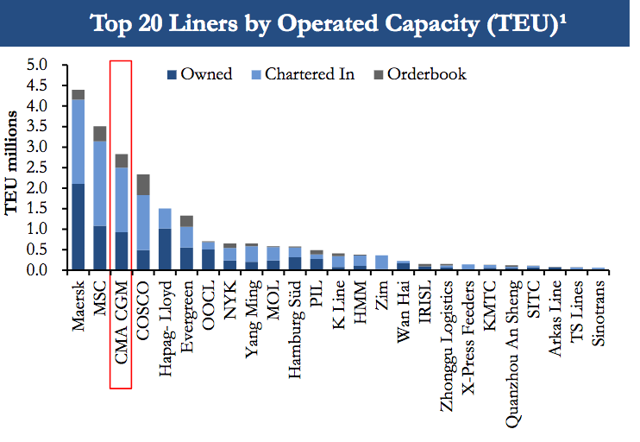 (Source: GSL site)
Earnings:
It's sounding sort of good so far, right? But take a look at GSL's earnings trailing growth stats – not too inspiring. Q3 '17 had some positive numbers, but that's about it: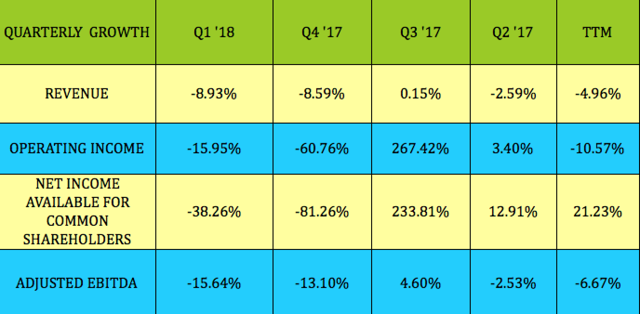 GSL's revenue, operating and net income and EBITDA have trended down since Q3 '17, but the big black eye is that -$99.82 in negative net income in Q4 '17: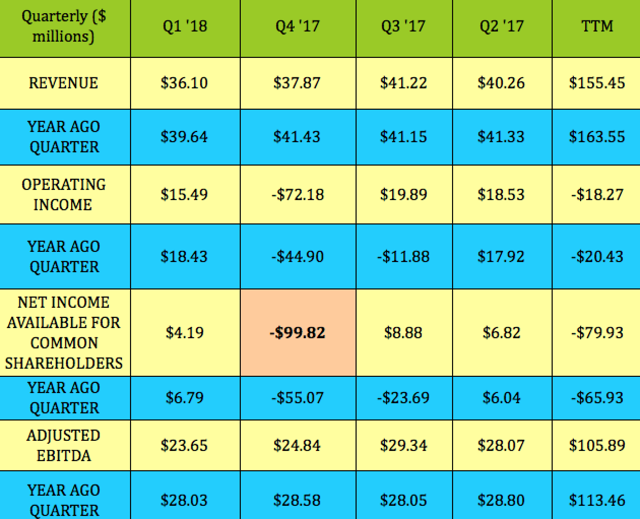 This stems from GSL's yearly review of its vessels from which it has taken large, non-cash impairments over the past three years: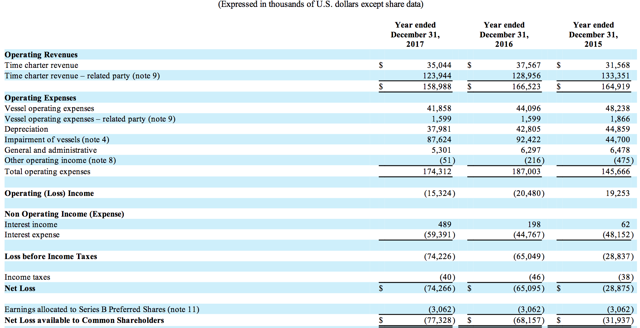 (Source: GSL 2018 20-F)
Preferred Dividends:
We took a look at how this affects GSL's preferred dividend coverage over the past three years. We adjusted net income by adding back the non-cash impairments and deducting preferred distributions. The preferred coverage averaged 5.68X over the past three fiscal years.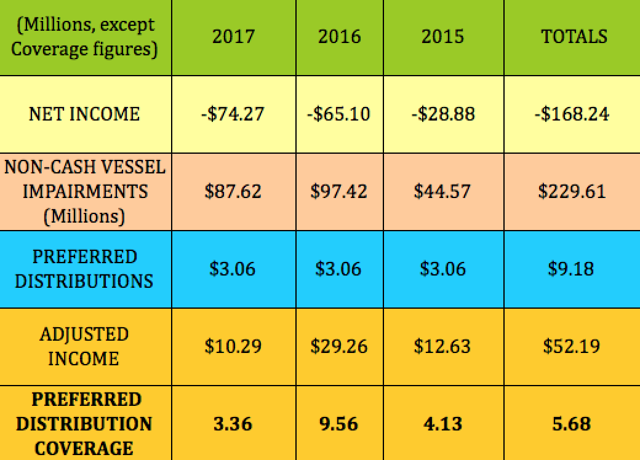 We also looked at preferred coverage from a cash flow perspective, via deducting vessel improvement and drydocking costs. This method shows a very robust coverage factor of 18.89x for 2017 and a three-year average coverage factor of 20.94X: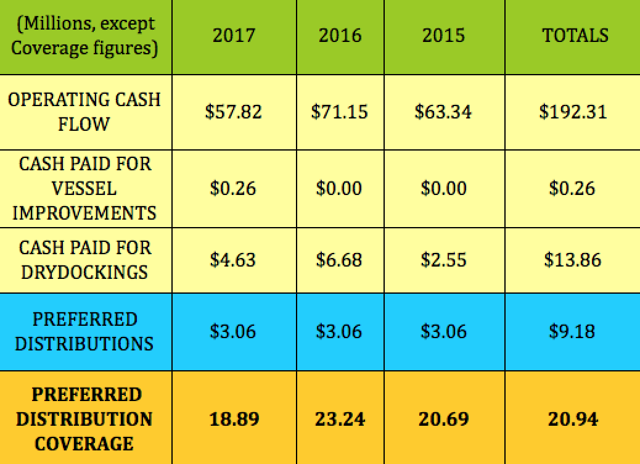 In addition, net cash provided by operating activities was $20.4 million in Q1 '18, vs. just $8.2 million in Q1 '17.
GSL's preferred B series shares, GSL.PB, are cumulative, meaning that GSL must pay you for any skipped dividends. They should go ex-dividend again ~6/22/18. They have no maturity date, but the call date is on 8/20/19, leaving time for five more quarterly payouts:

Another plus is that, at $23.95, they're $1.05/share below their $25.00 call value. Even though these shares have no maturity date, the table below details a scenario in which GSL redeems these shares on their 8/20/19 call date. Since they're selling at a discount, their annualized yield to call date yield of 12.54% is much higher than their current yield.

You can track GSL's preferred shares in our High Dividend Stocks By Sector Tables, in the Services section.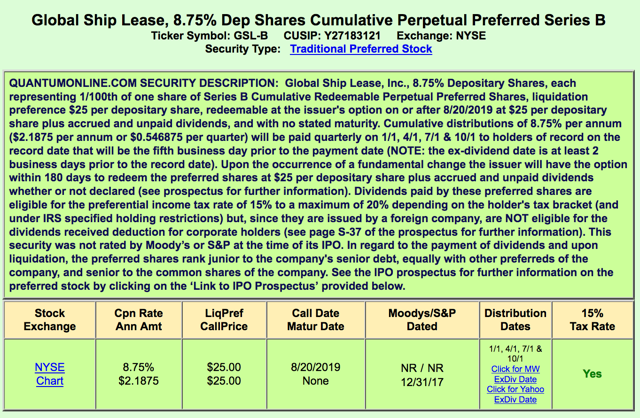 (Source: Quantumonline)
Industry Tailwinds:
Management gave numerous comments on the Q1 '18 earnings call about the uptick in vessel rates, caused by a very low excess supply. The orderbook-to-fleet ratio has fallen from 60% in 2007 to just 12.6% in 2017.
"In the midsize of smaller categories vessel demand growth outpacing supply growth aren't the same and multiyear basis exemplified by a significant reduction in the idle fleet, which is now fallen to below 1.5% on a capacity basis. This supply demand tension is driving upward pressure on short-term market rates and on asset values. Net fleet growth in most mid-size and smaller fleet segments was either negative or neutral in 2017, continuing a trend established in 2016."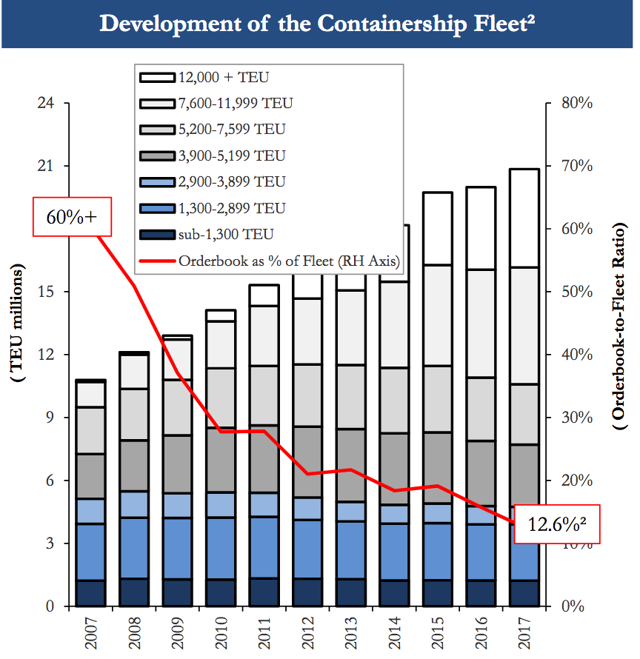 The Q1 '18 spot market index was up 41% vs. Q1 '17, but still near cyclical lows: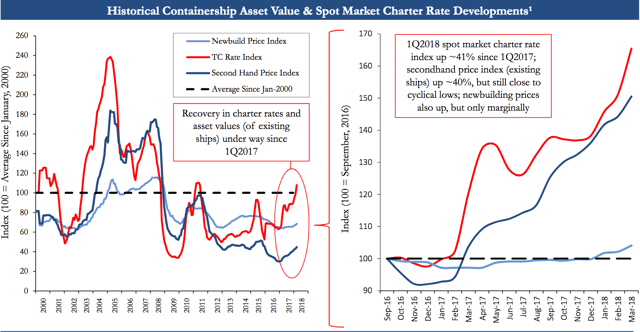 (Source: GSL site)
Here's why this matters. Much of GSL's fleet is chartered on lower rate contracts which are due to expire in 2018-2020.
"All but one of the vessels, which we expect to renew in the short-term market over the next 18 months or so, already is in that markets at relatively low rates, reflecting the state of the market at the time. The current rate for such a vessel is in excess of $20,000 per day, up significantly over the last 15 months." (Source: Q1 '18 earnings call)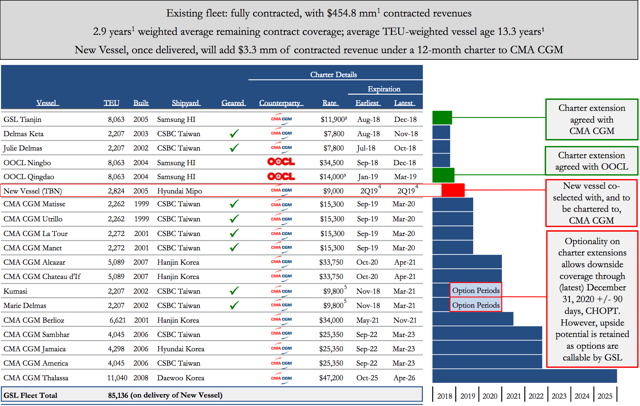 (Source: GSL site)
Management signed a charter extension for the OOCL Qingdao in February at $14,000 per day, "up significantly from the $11,900 per day rate achieved by her sister ship just one month earlier, and well up on the approximately $8,000 per day market rate from a year ago. I'm pleased to say that this upward trend has continued and has in fact accelerated with the current prevailing rate for comparable vessel, an 8000 TEU ship in excess of $20,000 per day." (Source: Q1 '18 earnings call)
As rates are rising, vessel expenses are remaining stable – GSL's average operating cost per ownership day was just under $6,500 per day, which is broadly in line with the prior year period.
Risks:
Vessel Impairments/Recontracting – We've shown how GSL's non-cash impairment charges have hurt its net income in Q4 '16 and in the past. If its market flips back to another downturn, it could hurt future recontracting rates and trigger more vessel impairments.
Valuations:
These valuations relate to GSL's common units, which have risen ~20%, since we first wrote about them in January 2018. At $1.46, GSL has very low valuations for price/book, price/sales, and EV/EBITDA, but no common dividends.
Financials:
Those negative numbers for ROA, ROE, and operating margin are caused by GSL's big non-cash vessel impairments. GSL's Debt/Equity ratio is roughly in line with industry averages, whereas its net debt/EBITDA of 2.91X looks generally lower than other leverage valuations we've seen in the shipping industry.
Debt and Liquidity:
As of 3/31/18, GSL had $91.3M in cash and total assets of $689.1M, of which $592M were vessels. Its debt was $414.8M, with $360M of senior secured notes, plus $54M under its super senior secured credit facility.
Here's a breakdown of liabilities, as of 3/31/18 (left column), and 12/31/18 (right column):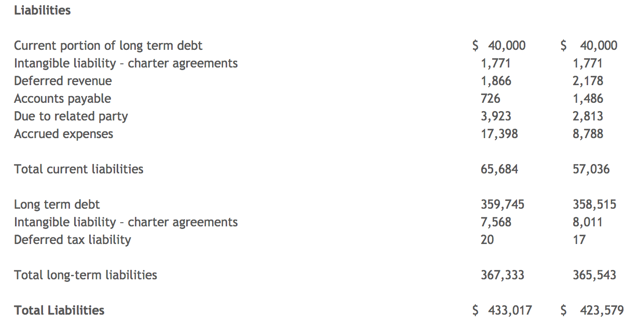 (Source: GSL site)
Options:
GSL has options available, but there are no bids on the call options, and the lowest put strikes are deep in the money, at $2.50 and $5.00.
However, if you're interested in selling covered calls, we maintain daily a table of over 30 other trades in our Covered Calls Table.
We also have a similar size table of Cash Secured Puts, which is updated throughout each trading day.
Summary:
We rate the GSL.PB preferred shares a buy based upon their discount to call value, cumulative status, attractive yield, and very strong coverage.
All tables furnished by DoubleDividendStocks.com, unless otherwise noted.
Disclaimer: This article was written for informational purposes only, and is not intended as personal investment advice. Please practice due diligence before investing in any investment vehicle mentioned in this article.
Our new Marketplace service, Hidden Dividend Stocks Plus, focuses on undercovered and undervalued income vehicles. We research the world's markets to find solid income opportunities with dividend yields ranging from 5% to 10%-plus, backed by strong earnings.
We publish exclusive articles each week with investing ideas for the HDS+ site that you won't see anywhere else.
Our strategy is working in 2018 – the HDS+ portfolio is outperforming the market handily, and has an average dividend yield of over 8%.
Disclosure: I am/we are long GSL.PB.
I wrote this article myself, and it expresses my own opinions. I am not receiving compensation for it (other than from Seeking Alpha). I have no business relationship with any company whose stock is mentioned in this article.
Editor's Note: This article covers one or more stocks trading at less than $1 per share and/or with less than a $100 million market cap. Please be aware of the risks associated with these stocks.