Our Year End Marketplace Roundtable series reviewed a variety of investing styles from value to income to alternative strategies, and over 75 authors weighed in on their big stories and best lessons from 2017, along with their outlooks for 2018. We have posted the list of previous editions at the bottom of this article in case you'd like to review anything. As a last article to close out the series, we're collecting all of our authors' top picks for 2018. Here's where Marketplace authors are seeing opportunities – perhaps they'll spark your imagination and inspire you as you consider your own investing strategies for 2018.
Seeking Alpha: What is one of your best ideas for 2018, and what is the story?
Technology
Bull & Bear Trading: Trader's Idea Flow believes that a degree of volatility will return to the markets in 2018. As a short-term trader, we are optimistic for an increased number of opportunities in the coming year. Specific stock ideas are long positions in Stitch Fix (NASDAQ:SFIX) and CarGurus (NASDAQ:CARG) with a short call on Roku (ROKU).
John Rhodes: My best idea is that you should invest in yourself, your best skills, your reason why, your greatest strengths. If something is critical or urgent in your life please be sure to make sure it's at least at an average level, or outsource it to get it to that level. Otherwise? Ignore your weaknesses and concentrate on the vital few. I say this in the context of Buffett's "Circle of Competence" and also in relation to Bitcoin, blockchain, and crypto. Especially if you're a technology investor, my very best advice is to punch and kick. Do some research. It ain't going away and will provide you with a special type of first mover advantage. Put another way, even if you completely hate Bitcoin, but you're a technology investor, find the time to see how the blockchain is already cutting deep into banking, logistics, security, networking, storage, health care, energy, governance, and far beyond. It's becoming the trust layer of the internet. It's rapidly becoming a key part of the techno-economic fabric. So go ahead and pick one thread. Grab even just one string, and pull. Then use your unique abilities to get an advantage here while you can because it's all happening now, and into 2018. Bottom line: You can say "Screw Bitcoin!" all you want but don't throw the blockchain baby out with the bathwater. You will regret it.
D.M. Martins Research: In tech, I have recently bought PayPal (PYPL) into quite a bit of stock price strength – an unusual move for me. I believe the company has the right technology and scale to compete very well in a sub-sector that I find very attractive: payment platforms. The space is likely to become more crowded with companies like Amazon and Apple popularizing their own payment solutions, but I believe PayPal (with the addition of its acquiree Venmo) is a step ahead of the rest of the crowd. With the stock de-risking a bit in the end of November, I find the name a compelling New Year buy.
Tom Lloyd: I like Facebook, Twitter (NYSE:TWTR), and Square (SQ). For better or worse, Trump has shown what can be done with Twitter. Maybe Square should invent a cryptocurrency. I already indicated we have Apple, Google, and Facebook in our 2018 model portfolio. If I have to pick one, it is Facebook. Everyone knows the story. It is at the beginning of the Google run-up. Probably good for the next 5 years if not 10. All Zuckerberg has to do is copy Bezos or replace Amazon, the way he did Google.
ValueAnalyst: Tesla (NASDAQ:TSLA). The stock is currently valued as an automotive company that will never become profitable and will only grow to 500,000 unit sales by 2020, which was the company's plan until May of 2016. The company has since accelerated its growth plans, to which market participants have not yet adjusted. This will change in 2018.
Damon Verial: Cheap Chinese tech products have already brought up the life quality of the lower-middle class across the world. Much of the growth there is over. The Chinese tech market is overvalued. I expect a pullback in favor of more premium, unique alternatives. An example – just an example – would be a pair-trade that shorts Alibaba (BABA) in favor of Amazon (NASDAQ:AMZN). I don't have a specific trade I intend to actualize, although I am currently shorting FXI. Overall, I think 2018 and 2019 will be years in which short tech traders make more money than tech permabulls.
Joe Albano: Maybe surprisingly, I have a best idea in a non-tech industry and believe the offshore oil drillers will begin to recover, noting the sustained move for WTI as we exit the year. As oil moves higher, drillers will see a return of contracts at higher day rates from oil and gas majors. It's likely this will take the majority of 2018 and depends on the continued strength in the crude market, but this is the beginning of a recovery as oil has not been this high since the middle of 2015.
David Pinsen: I post my system's top 10 names on Bulletproof Investing every week. Although there tends to be some overlap from week to week, it's possible that the top names as of today (December 4th) won't be the top names when you read this. Since I don't know what the names will be, I can't tell you their stories, but what I can tell you is that the stories don't matter. Align Technologies (ALGN) was one of Portfolio Armor's top picks in April, and I didn't learn what they did (they make Invisalign braces) until I read a news headline about the company on Seeking Alpha 6 months later.
EnerTuition: AMD (AMD) could be the biggest winner next year. 2018 will show that David can indeed inflict pain on Goliath.
Elazar Advisors, LLC: I have multiple companies I like. Frankly I love them all. A good parent has to love all their children the same, right?
That said, for the wide gamut of styles and investors it's probably still Facebook (NASDAQ:FB). Depending on when this is published we have like 80% 12-month upside. Our earnings numbers include the "look Congress we care" jacking up of expenses to ward off future Russian political meddling. Even with that our EPS potential is still so so huge. Why? Because their top-line growth is huge, their margins are huge. But, oh you want a kicker? Oh my. Brief history. Remember some guy Mark Zuckerberg said way-back-when that mobile was going to be the next "mega-wave." Remember that? He nailed it, right? Well, he sees another mega-wave coming. Anybody care? It's called… video. So while they have everybody worried about ad load, that ad load is soon going to jump as they start pumping video through their site. Look out.
Good luck to all!
Ryan Surber: Let's stick with the hottest conversation among worldwide investors these days – the conversation of cryptocurrency.
I just called Bitcoin to $90,000 both on Seeking Alpha (A Reasonable Valuation Methodology For Bitcoin – And Why It Grows 6X From Here and on Cheddar TV's dedicated cryptocurrency segment every Friday afternoon
Blockchain technology, and the epic technological shift of the "tokenization of everything" as Matthew Roszak calls it, is going to present opportunity, and risk, unlike anything investors have experienced. We can see that with 2017 cryptocurrency gains, but we're just getting started with this roller coaster ride.
Kenra Investors: One of my best ideas is eBay (EBAY). This company used to be the king of eCommerce before Amazon took the crown with its aggressive business model. It's still the second most important eCommerce platform in the world if we exclude China. I think the market is underestimating the quality of eBay's business model, the power of its network effect and its potential growth. We have seen a series of new features and successful efforts to re-design the platform to improve customers' engagement, and I think the market didn't understand what kind of growth this business can deliver with its enhanced platform. Only in the past months, the company has replicated some of the most interesting and attractive features customers look for in e-commerce platforms, without any significant impact on the company's fundamentals. The company has found an effective way to highlight the best offers with free shipping, taking advantage of its huge sellers base and the variety of their offerings to compete against Amazon and the others more effectively. In addition to this, there is an increasingly aggressive marketing push that seems to be particularly effective and a series of additional growth catalysts that include huge improvements in the advertising system. I rarely see so many attractive characteristics and growth catalysts in a business trading at just twenty times earnings.
Small Caps
Ruerd Heeg: In general, investing based on my rankings is a great way for going forward. For investing in individual stocks, I like very ugly stories with extremely cheap stocks. Based on statistics, they have the best returns. One of the cheapest stocks with an ugly story is Rosedale Hotel Holdings, ticker HKG:1189. A couple of years ago, I bought and sold it for 100% gain. In April 2016, I bought it again, below my first purchase price. Rosedale Hotel Holdings has one of the best rankings in last month's net-net list. The company trades for less than a quarter of current assets net of all liabilities. The company makes a loss, has few income-generating assets, trading is illiquid. Two years ago, there was a dilution (but not an excessive dilution), but before that the company paid high dividends. The CEO is a large shareholder. He manages multiple other deep value companies but has been involved in higher valued companies as well. There have been transactions that do not seem to make sense. But it might be possible to justify them. Despite the ugly story, this stock is great based on statistics. Such investments only work out well when buying a full, representative sample of similar ugly but extremely cheap stocks.
Howard Jay Klein: Consolidation of the regional gaming space in the US. I see accelerating transactions in the mop-up of small, regional operators under larger acquirers. There is an unchallengeable financial logic to this in my view, and I will be tracking these possibilities for my Marketplace subscribers in particular as I dive into possibilities and make sure they get in early on deals with big upsides that few currently see.
James Sands: For small-cap, I'll have to stick with Matson (MATX). The stock has been unduly punished from competitive fears in its Hawaii market. If the market can see economic acceleration over the next couple of years, I think Matson could break out back towards $40 per share reflecting close to 40 percent upside. Investors should also pay attention to container lessors, the unbelievable run in 2017 could push higher into 2018, especially if ocean freight rates can remain disciplined.
Darren McCammon: Bri-Chem (OTC:BRYFF) (BRY.TO) is a drilling mud supplier which benefits from themes #2, #3, and #6 above as well as indirectly a general increase in energy prices. You can find out more about it in, "Bri-Chem: Attractive Metrics, And 45% Potential Near-Term Upside". I think it still has more than 45% upside and would not be surprised if that happened relatively quickly.
Dining Stocks Online: Habit Burger Grill (HABT). Small-cap restaurant stocks have been even more volatile than usual, but this name has a pristine balance sheet and plenty of white space in the U.S. to keep expanding (fewer than 75 locations outside of California). The stock is trading for $9, down more than 50% from its 2017 high. It could easily rise 30-50% in 2018.
Bram de Haas: Itasca Capital (OTCPK:ICLTF) is one of my favorite small cap companies going into 2018. It's a holding company that contains cash, warrants and bonds tied to Limbach Holdings (NASDAQ:LMB). Limbach is a favorite idea of Dane Capital, who wrote a recent editors' pick about the company – Limbach: Materially Undervalued And Misunderstood. Through Itasca you get asymmetric exposure to Limbach. The downside is mitigated while you enjoy a lot of upside if the company does well.
Donovan Jones: Enterprise IT company Apttus (Private:APTUS), which streamlines the sales process with its Configure – Price – Quote SaaS business, has just hired an experienced CFO, which is typically a precursor to going public. I've spoken with their Chief Revenue Officer, and the firm will likely file its S-1 to go public in 1Q 2018. At IPO Edge, I will analyze its operations with an in-depth research report. I look forward to learning how well they are executing and to provide my membership with exclusive research.
The Value Pendulum: 68% owned by IMAX Corp. (NYSE:IMAX) in the U.S., Hong Kong-listed IMAX China (OTC:IMXCF) (1970 HK), a Chinese theatre screening technology company that generates revenue from selling IMAX equipment to movie theatres and sharing box office revenue with movie studios and theatres that play IMAX movies, is one of my best ideas for 2018. The Chinese cinema industry, the world's second largest, remains underpenetrated, as China's screens per million people is one-third that of the U.K. and one-fifth that of the U.S. IMAX China is the best stock to play the Chinese cinema industry growth story, as it is undervalued (under 20 times forward P/E versus mid-twenties P/E for peers), and boasts scalability (minimal investments in capital expenditures and R&D as IMAX China only licenses its technology and brand, while the parent company IMAX incurs the R&D), revenue visibility from backlog (operated 482 screens as of September 2017 and has contracted to install 350 more before 2022 or about 120 screens per annum), premium technology (dominant non-conventional theatre screening technology in China and proven IMAX movie experience that both film-makers and moviegoers identify with) and superior profitability (EBITDA margin in excess of 50%).
Lutz Muller: I would watch Mattel (MAT), and if and when I see a major change in top management, I will assume that the company will have turned around in time to benefit from the 2018 fourth quarter so important for toys. This should then result in a sharp rebound in stock price to reflect the real value of the company rather than the extremely low share price level that exists today.
The Investment Doctor: My favorite idea for 2018 would be a company we have discussed in depth at ESCI. Roularta Media Group (ROU on Euronext Brussels) is a family-owned (65%) printing group which owned 50% of Medialaan NV, which includes Belgium's largest commercial TV and radio station. It didn't get any value at all on the market for its audiovisual exposure as the market was focusing on the poor performance of the printing business this year. In October, it sold that 50% stake to the joint venture partner for a total price (300M EUR in cash + 50% of a newspaper) which was higher than Roularta's own Enterprise Value at that point (255M EUR), indicating my assumptions and conclusions were absolutely correct.
It's still a 'work in progress' as the market still doesn't realize the full value of Roularta. Once the 50% stake in Medialaan will be sold, Roularta will have a net cash position of 14-15 EUR per share. This means that at the current share price of 21 EUR, the printing activities are valued at 75M EUR. Which is absurdly low for a division which generated 20.6M EUR in EBITDA last year. Even if we would apply a haircut of 50% on the existing print media EBITDA (to 10.3M EUR), Roularta's printing division will generate in excess of 25M EUR in EBITDA in 2019 as an operating lease (10M per year) will come to an end next summer whilst the 50% of the (financial) newspaper it received as part of the sale will also contribute 6M EUR in annual EBITDA.
This means the EV/EBITDA ratio at the current share price is still just 3 whereas a multiple of 8 seems to be warranted for a debt-free and cash flowing company. This would result in a sum of the parts valuation of 30-32 EUR per share. Roularta Media Group also is a perfect example of a family-owned smallcap which really shouldn't be public, and I think it's not unrealistic to see the family shareholders taking the company private in the next 6-24 months. Roularta was added to the ESCI portfolio at 15.97 EUR per share. I have now made an update article about the sum of the parts valuation which was published on September 6th available on my InstaBlog.
Safety in Value: I maintain a top ideas list as part of my monthly review for subscribers. One of the current ideas on that list is New York REIT (NYRT). The company is a real estate trust focused on New York City. It was the subject of an activist campaign, and shareholders agreed to liquidate the company. The New York City market has weakened, and the prices on the sales of the assets have been considerably below estimates, and way below the values originally floated during the activist campaign. That has left management with no credibility after they have repeatedly missed estimates, which has soured many special situation investors on the name. Additionally, the company will convert to a non-trading liquidating trust, which reduces investor interest further. These factors explain why the security could be undervalued, and some simple math confirms that it likely is undervalued.
The company's published NAV at the end of the last quarter was $7.93, and they have paid out $3.07 to shareholders since then, so the adjusted NAV is $4.86. At the current $3.90, that would imply a 25% return from here. Most of the remaining NAV after the distributions is from their holding in Worldwide Plaza. There is definite upside there, because they just sold slightly under half to SL Green and RXR who intend to reposition it and add value with already-allocated capital. Plus, they have deducted a $57 million accrual for transfer tax on the property, and all they have to do to avoid it is hold their current stake for 3 years, which is under their control and adds $0.34 per share in value. Finally, the IRR here will benefit from the fact that all the non-Worldwide Plaza assets should be sold with proceeds distributed within the next 6 months or so.
GS Analytics: Colfax (CFX) is one stock which we believe can double over the next 3-5 years. The company was founded by Rales brother of Danaher (DHR) fame. Danaher's stock has given 20% plus CAGR since 1985. Colfax was also doing well till mid-2014 after which decline in oil and gas and power end market adversely impacted its fundamentals. The company's end markets have turned and its earnings are now improving. The company recently completed sales of its fluid handling business which has made it less cyclical and provided it with ~$1 billion firepower to make new acquisitions. Management is likely to announce a major "platform acquisition" over the next 12 months. The company is trading at 18.57x FY2018 cash EPS which is low given its improving outlook and inorganic growth catalyst. The company is likely to see accelerating earnings growth as well as multiple expansion over the next few years which can cause the stock to double. We have shared our detailed research on Colfax with our subscribers.
Alternative Strategies
JD Henning: I'm struck by the recent news that both the CME and CBOE are set to launch bitcoin futures as early as December 18th. The futures market dwarfs the value of the equity market and this is very likely to add significantly more value to cryptocurrencies in the coming year. On the equity front, Denbury Resources, Inc. (DNR) is an independent oil & gas stock with $1.07 billion in sales that I like for the long term. I recently wrote Denbury Resources Beats Q3 Forecasts – How Undervalued Is It? about how well it has performed despite being hard hit by the Gulf Coast's string of hurricanes this season and how its acquisitions and recovery will likely correspond to strong price growth into 2018. Based on my quantitative momentum models, I have a 33% price growth target of $2.50/share from here. DNR is currently up over 42% since Nov. 6 when it was added to my Week 45 momentum breakout portfolio for subscribers.
Andres Cardenal, CFA: Apple (AAPL) is one of the biggest positions in my personal portfolio, and the stock is also included in several of the quantitative systems in The Data Driven Investor.
Apple is one of the most profitable companies in the world: Operating margin is around 27% of revenue, and return on equity exceeds 36%. Earnings per share increased 24% last quarter, and the company has over $270 billion in cash and marketable securities on its balance sheet. Financial performance is outstanding, yet Apple trades at a conveniently low forward PE ratio of 14.2. As a reference, the average company in the S&P 500 trades at a forward PE around 21.7.
I think the market is pricing Apple like a hardware company, but financial performance shows that Apple is no average hardware company by any means. Apple sells hardware, software, and services in an integrated way. Not only that, Apple has one of the most valuable brands in the world, and this is a key source of competitive strength and profitability for the business. Relevant link: Is It Too Late To Buy Apple Stock?
Fred Piard: Most investors understand "idea" as "ticker". The point of quantitative investing is to invest in abstract models, not tickers. I occasionally make a discretionary decision, but it's quite rare. My plan for 2018 is to follow consistently my models week after week with the same discipline. That's my best idea: sticking to a discipline.
Insider Insights: We have over 30 stocks of various market caps and investment styles on the Recommended List of our InsiderInsights Newsletter, all of which have had full write-ups and garner periodic updates and rationales when we eventually sell. But I've been around the block too many times to fall into the "best idea" trap. Insiders have timely, great ideas no matter what style or risk/reward you are looking for. But I don't know the individual risk tolerance and reward requirements of each reader of this round table, and any one of my stylistic "best ideas" would only apply to a portion of readers anyway. As the owner of an RIA, my regulators would also not appreciate me saying otherwise.
So, my "best idea"? Buy into a strategy, not a tip sheet. Use a system to narrow down and identify numerous investment ideas of various styles, and make the final specific buying decision yourself. You know best what style of investment your portfolio needs. And once you decide on that high-risk/high-reward biotech or low-risk/moderate-return income play – own your decision.
There are no geniuses in this business. But with a process, discipline, hard work, and persistence, you can beat the market. We've designed our InsiderInsights Daily Insider Ratings Reports for the Seeking Alpha Marketplace to fit into every investor's research process.
Energy
Andrew Hecht: The geopolitical landscape is dangerous in the Middle East. The Iran-Saudi conflict is spreading in the region. An increase in violence and conflict could cause problems with production, refining, and logistical routes in the region that is home to half the world's oil reserves. Weekly historical volatility in crude oil is at around 20.5% in NYMEX crude oil futures which makes options, not expensive or cheap, they are at fair value. I believe that we will see more price volatility in the coming year with the potential of price spikes, which would increase price variance. Therefore, I am a buyer of options (puts and calls) throughout the year to take advantage of an increase in volatility.
HFIR: In August, we published a piece noting that we bought California Resources (NYSEMKT:CRC). At the time, we thought the market over discounted the prospects of higher oil prices, and that was reflected in CRC's stock price.
We continue to believe that the market is overly discounting the prospects of higher oil prices, and as it related to CRC, we think there's still tremendous upside left if oil does what we think it will in 2018. CRC is our favorite levered bet on higher oil prices.
But our favorite pick from the interview in June, Gear Energy (GXE.TO) (OTCPK:GENGF), remains our favorite headed into 2018. The company is now projected to increase production by ~18% exit-to-exit in 2017 all within cash flow, and we think the Gear team can deliver 20% exit-to-exit in 2018 again all within cash flow. By our estimate, Gear trades below 3x EV/DACF 2018 numbers if WTI averages $60/bbl.
Lastly, we think all energy stocks will do well in 2018. Service providers might do better than the producers as we start seeing servicing cost inflation rise across the sector, with the offshore sector not far behind. Onshore will see the benefits first, so we will be watching that closely.
Kirk Spano: Solar energy stocks are beaten down on pressure from President Trump, whether that pressure is real or perceived. As we continue to electrify the planet with devices and soon cars, new demand for electricity will increase – it's been pretty level lately. Most new electricity generation comes from wind and solar, actually on net 100% of new generation does according to the EIA.
In a scenario where electricity needs increase, we don't want to drive the price of fossil fuels to crippling economic levels, we do want to protect the climate and we want to be energy independent, solar will continue to see big double-digit growth rates. Solar and smart grid is my best idea not only for the next year, but for the next 10 years.
I've already revealed one stock I am accumulating: SunPower (SPWR) (Use Uncertainty To Buy SunPower's Bright Upside).
Laurentian Research: For 2017, I picked GeoPark (GPRK) as my favorite oil play and Canacol as my top gas play, with GPRK being a 50% position in the model portfolio featured at The Natural Resources Hub (TNRH). GPRK has had a stellar year (up 107% YTD), and CNNEF beat the vast majority of the U.S. gas producers, although it essentially stayed flat. In picking these stocks, I tried to minimize the reliance of my investment thesis on the oil price assumptions; I would like to make sure the company can do extremely well at high oil prices but can also do fairly well even if the oil price tanks again, which requires high-quality, low-cost assets and able and nimble managers.
Going into 2018, I see no reason to change a proven tack. I try to identify a target whose prosperity is less dependent upon an expected sharp increase in commodity prices and more dependent upon the quality of the asset portfolio, the balance sheet, and the integrity and ability of the management. Besides Canacol, which I mentioned above, my best idea for 2018 is Earthstone Energy (ESTE). Earthstone has rolled up some top-quality acres in the core of the Midland Basin, arguably the most economically viable shale play in the U.S.; it has a squeaky clean balance sheet, with ample liquidity in the war chest; best of all, it is run by a team of serial entrepreneurs who are shrewd deal makers with ready access to big-money investors, who have the necessary technical expertise to perfect well performance, and who has skin in the game. The stock is currently undervalued by a minimum of 44% and potentially a lot more, thus providing investors with a downside cushion. I see a number of near-term catalysts that can drive the stock price sharply higher, including the divestiture of part or all of its Eagle Ford assets, impactful land acquisitions in the Midland Basin, and rapid organic growth in drilling locations, reserves and production. I wouldn't be surprised if this stock doubles over the next 18 months.
Laura Starks: I remain intrigued by the high-quality asset base of the Midland sub-basin of the Permian, delineated over decades by vertical wells, and now key to the operations of a large number of private and public companies I have been researching for my Marketplace service, Econ-Based Energy Investing. I'm intrigued by vertical-turned-horizontal players like Diamondback Energy (FANG), E&P companies that emerged from midstream and downstream operations and have pared away their non-core assets to focus on the Midland Basin like Energen (EGN), and small public companies like Earthstone Energy (NASDAQ:ESTE).
Robert Boslego: My approach to the oil market is to assess conditions and be willing to position long or short, or even to go to the sidelines, if no strong conviction is present. I do not believe that the long-only positioning will manage risk or provide the best risk-adjusted return over time. This approach has enabled my model portfolio from February 7th through December 13th to be up 74%, whereas a long-only XLE position was down 2 % over the same period (see my article).
Value Digger: Although I do believe that Cardinal Energy (OTC:CRLFF) from the energy sector will outperform in 2018 thanks to its fat dividend and its gross undervaluation relative to the oil-weighted peers, my best long idea for 2018 is Synergy CHC Corporation (OTCQB:SNYR), which is an unknown growth stock from the consumer goods sector with hot brands, high insider ownership (~55%) and low key multiples, as presented in one of my recent Instablog posts. SNYR has lately hired three directors with great credentials because it's going to uplist in 2018 according to the latest corporate news, and I expect this uplisting to bring SNYR's valuation in line with peers'.
Alternative Income
Alpha Gen Capital: We have a several speculative high-dividend positions in our non-Core Portfolio, which we call the Peripheral. These include positions (limited to 2% max allocation to mitigate risk) in UNIT, WPG, NRZ, SBRA, LADR, CLNS and OHI. These are all positions that we think we have a favorable risk-reward trade off.
Our top trade for this coming year is a partially-busted IPO from last July that invests solely in ground leases. The company is Safe, Income, and Growth – (NYSE:SAFE). The company is really the first of its kind in the public markets with a very niche strategy. The ground lease market is massive and very fragmented making it rife with opportunity. The current 3.6% dividend yield may be small, but we think it will grow over time as it ramps up the deal flow and boost the leverage to the target. We think the shares give investors a very compelling risk reward trade off with a target return of 5-6% but with bond-like risk. And for those that do not want to invest in bonds because of inflation, the base rent terms include contractual price escalators of 1.5-2.0% or tied to the CPI index. One of the most interesting aspects of the business model is that the ground lease gets possession of the land and all improvements made at the end of the term (usually 99 years). So if a developer puts up a massive office building, at the leases expiration, the building becomes the property of the ground lease owner. SAFE calls this its Value Bank. This stock won't go up 100% in 2018, but it will provide your stock portfolio ballast while hitting single and doubles.
Arbitrage Trader: LNG Shipping Preferred stocks are of most interest to me. Their yields are extremely high compared to the preferred stock market and you expect to see some troubled companies behind these yields while in fact the companies are making money and trade above book value. Market is too scared because of the cyclical nature of the sector, but the preferred stocks look quite safe currently. A good example would be TGP-A with its 8.8% current yield.
Downtown Investment Advisory: Preferred stock of some of the midstream MLPs, such as NuStar Energy, L.P. (NYSE:NS). The MLP sector has been hit hard (down over 10%), due to valuation concerns in my opinion (MLPs are now valued at around 10x EBITDA, from 12x-14x in prior years). However, there is no issue with their ability to service debt or preferred stock (there may be an issue with paying 10% common stock dividends). Preferred stock has been dragged down as well, offering a compelling risk/reward. NuStar has several issues, most recently the series C, that pays a 9% distribution – and this is for a Ba1 issuer, one notch below investment grade (the bonds of this same issuer yield in the low-4% range, which leads to an enormous yield differential between the bonds and preferred stock). The issue also has a floating rate feature that begins in 2022, protecting against interest rate risk. There are some other midstream MLPs that offer compelling values.
Donald Van Deventer: There are about 50,000 trades per day in 8,000 bonds of 2,000 issuers in the US corporate bond market. Investors with nothing more than an Excel spreadsheet and a Bloomberg terminal are competing with big data tools like those we offer for alpha. We're dedicated to bringing those tools to all investors, both retail and institutional, on the buy side so that the buy-side can take control of the market away from the short list of firms fined for serial corruption and serial market manipulation.
The Fortune Teller: We believe that MLPs and fixed-to-floating preferred shares are two very attractive places to increase exposure to in 2018, while maintaining our bearish stance towards most eREITs. when it comes to specific names we would point at WES, DKL, PBFX, TGP-B, NGL-B and NGLS-A as our best ideas for 2018.
The Investment Strategist: Weyerhaeuser (NYSE:WY). It is the most diversified timber REIT and largest in the space. It is tied to both homebuilding and inflation, and because of its manufacturing business segment, is probably the most sensitive to the latter. Home starts are just now starting to accelerate and the Canadian timber import tariffs have already provided a boost to prices. If homebuilding accelerates as we expect, inflation takes hold, and the tariffs remain in place in some form, timber REITs, and Weyerhaeuser, in particular should stand to benefit.
Dividends
Canadian Dividend Growth Investor: I give real-time alerts in the Live Chat of my buys and sells in my Marketplace service, DGI Across North America. So, when Enbridge Inc. [TSX:ENB] (ENB) traded near its recent low of ~CAD$44 per share, and I added to my own position, my subscribers knew immediately and could have acted. I believe Enbridge Inc. will continue to recover over time. In the meantime, it offers an attractive ~5.4% yield. Energy needs to be transported. So, Enbridge isn't going anywhere.
The Dividend Guy: Members at Dividend Growth Rocks had the opportunity to follow me building my pension portfolio step by step over the past 3 months. One of my favorite additions to this portfolio is Disney (DIS).
While investors punish the King of Content for losing ESPN subscribers, they ignore the business shift Disney is making. Through three major acquisitions in the past decade or so (Pixar in 2006, Marvel in 2009, and Lucas Film in 2012), DIS has created an unlimited universe of content.
Combine these acquisitions with an unmatched experience in cross-selling their products and you get a company that is able to create multiple blockbuster movies, sell tons of related toys and apparel, and get you to their theme parks year after year.
I believe the recent decision of streaming its content will also benefit Disney. If it can stream sports, it will save its ESPN segment while adding other derivative products in its pipeline for its content universe. Now that Disney will buy several FOX assets, including X-Men, Avatar, National Geographic, its content potential just duplicated. Do not forget that this transaction will make Disney the major shareholder of Hulu, the second largest streaming service behind Netflix (NASDAQ:NFLX). I don't see how Disney will not outperform the market in the upcoming year.
George Schneider: I wrote recently, "Shopping At Tanger Outlets Bought Us A Bargain" to emphasize the benefits of contrarian investing. Along with other REITs and mall REITs in particular, this company lost around 40% of its market value as millions of investors decided, wrongly I think, that brick and mortar was dying. I strongly believe that news of the death of brick and mortar has been greatly exaggerated, and Tanger (SKT) serves a high-end niche market that will do well.
It is well for investors to realize that, though online retailing continues to grow by leaps and bounds, it still accounts for only about 15% of all shopping. It's also wise to remember that consumer spending accounts for 70% of U.S. GDP.
We took another contrarian position on AT&T (NYSE:T) recently and continue to believe it will play out well for investors in 2018, regardless of the outcome of the planned merger with Time Warner (TWX).
After the suits are finished litigating the lawsuit with the Department of Justice, if AT&T prevails, they'll be able to handle the additional debt to do the deal. If the DOJ prevails, AT&T will simply move on to another friendly target that will aid in its adaptation to the future. Investors worried about the debt load will breathe easier and have new justification to buy the stock again, pushing its price ever higher.
Income investors often say that "time in the market is more beneficial than timing the market." Because I'm a long-term investor, I subscribe to the first part of that statement. Because I'm also an opportunistic investor, I can also enhance my dividend stream by adhering to the second part as well. There is always a sale in the stock market, somewhere. You just need to know where to look for it.
Richard Berger: With Engineered Income, lots of ideas are "best." I do have two favorites working, however. One is a covered option play on Time Warner (TWX) as the stalled buyout drags out in late March or early April. This special situation provides strong gains and little downside risk *regardless of which way the situation unfolds* as the E.I.I. trades have been structured. We will profit whether the deal ultimately goes through (and we do not end up with TWX shares) or if it does not go through, and we do end up with the shares presented at our chosen strike price. There is also a great opportunity to lock in an 11.5% yield for all of 2018 with 10% downside protection while targeting a top-ranked global bank. I am giving this idea away as a holiday gift to anyone interested that sends me their email and requests the "holiday gift."
Richard Lejeune: The Panick High Yield Report got a fantastic entry point for NGL Energy Partners (NGL). It was added as a pick at $9.15 on 8/8/2017 when it sold off excessively on a bad quarter. Our members already have significant gains despite the midstream sell-off. NGL remains a great way to play the expected 2018 midstream rebound.
Sure Dividend: My best idea for 2018 is an investment in Cardinal Health (CAH). Cardinal Health is one of the three large pharmaceutical distributors in the United States. It is also a Dividend Aristocrat with 32 consecutive years of dividend increases and a 3% dividend yield.
The last two years have been difficult for the pharmaceutical distribution industry. First, a pricing war between the three large players has cut already thin margins even further. Second, there are rumors that Amazon is planning on entering the market. Finally, the opioid epidemic has created negative publicity – and lawsuits – for the pharmaceutical industry in general, including distributors like Cardinal Health.
These factors have caused significant declines in Cardinal Health's price. The company is trading for less than 12 times forward earnings per share. Versus its historical average price-to-earnings ratio of around 17. The company looks deeply undervalued at current prices. Now is an excellent time to invest for the long-run in this high quality business.
Gold & Precious Metals
Gold Mining Bull: Pure Gold (OTCPK:LRTNF) is at the top of my list for takeover candidates in 2018. They've got the goods at Madsen, a past-producing gold mine in Canada. The 1.7+ million ounce resource carries gold grades of more than 9 g/t in all categories, among the highest in the sector. Low initial capital (just $51 million, mainly due to existing infrastructure) and low projected all-in sustaining costs ($714/oz) makes this a high margin gold mine (figures according to an updated technical study). Even though the technical study uses just 54% of its resources, the study still gives the project an after-tax value of $258 million – far exceeding Pure Gold's market cap of $99 million. The economics should only improve with further mine optimization work and drilling. Finally, insiders own 3.6% of the company, with significant ownership from three strategic shareholders: AngloGold Ashanti (AU) (11.4%), Robert McEwen of Evanachan Ltd. (8.1%), and Goldcorp (GG) (7.2%).
Avi Gilburt: I would be watching the metals complex closely. The rally we are expecting to take begin in 2018 has the potential to be even stronger than the one seen in early 2016.
Victor Dergunov: I have quite a few ideas for 2018, and I mentioned some in the previous section. So, my greatest potential money-making idea is staying long bitcoin in 2018. The reasoning is rather simple, the supply is limited, the demand is enormous, the hype is stupendous, and more and more money should continue to flow into BTC. This is not the middle or the end to this "bubble", bitcoin is still in its infancy for the most part and the "bubble" is likely to get a lot bigger and could go on for a lot longer than most people expect. However, the idea that I care most about is Tesla. This company is at a crucial point in its existence, and as many may well know it is a battleground stock. If the company can demonstrate to investors that it is able to efficiently produce the Model 3 vehicle in early 2018, its stock is going to be very difficult to stop. I am a strong supporter of Tesla, I believe I have a good understanding of the company, the challenges it faces, and the enormous potential value Tesla can deliver to investors. I have a $550 price target for TSLA for year's end 2018, and I strongly believe Tesla will ultimate become one of the most valuable companies in the world.
Geoffrey Caveney: I have to start with honest full disclosure: I save my very best ideas for subscribers to my service. But here is what I can share here: Junior gold miner stocks with high leverage to the gold price are set to be huge winners in 2018, just like in early 2016. Let's take International Tower Hill Mines (THM) as a good example. It may not be the best gold mine project in the world, because it has lower grade and higher cost to build and mine, but it has excellent *leverage* to the gold price. Right now, when the gold price is below $1,300, most investors see little value in it, because it will cost about $1,450-$1,500 per ounce to build the mine and then get its 8 to 12 million ounces of gold out of the ground. So right now the stock price is very, very cheap. But if the gold price is $1,700, suddenly those 8 to 12 million ounces become massively profitable to mine.
Now, I'm not predicting or expecting $1,700 gold in 2018. But if gold even breaks above $1,400 in 2018, for the first time since 2013, more and more investors and traders will begin to prepare for and anticipate $1,500 and $1,700 gold. The money will rush back into stocks like THM. They won't wait for the actual $1,700 gold price, if they see the momentum in that direction.
Keep in mind, I'm not always a gold bug or a gold bull. This past spring, I cautioned people to get out of most junior gold miners. The momentum was weak and the stock prices still had plenty of room to fall. Which they did from September to December. But now I see the sector bottoming, and the stock prices have come back down to bargain values again. So this is the time when I love to be a buyer again. THM is just one example, like I say there are many others, and this is what my subscription service is all about.
Simple Digressions: Amerigo Resources (OTCQX:ARREF) – it is a small copper processing company operating in Chile in cooperation with one of the world's largest copper producers, Codelco. The company is in the middle of an ambitious development program. Using various valuation metrics, the company is strongly undervalued now.
SomaBull: There are many great stories in the gold (and silver) miners going into 2018. I save most of those for subscribers of The Gold Edge, but I have shared one recently on Seeking Alpha for non-subscribers. The company I'm referring to is B2Gold (BTG), and the reason I like it so much is their new Fekola mine is now up and running and far outperforming expectations during the ramp-up stage. The company just raised production guidance for 2017 to 580,000-625,000 ounces of gold because of the strength of Fekola. Next year, production will surge to 925,000-975,000 ounces thanks to the contribution from this new mine. AISC will drop to $800 per ounce as well. The shares haven't priced in any of this expected growth as they have been held down by the recent decline in the HUI. But the stock is trying to breakout and will likely take off if the HUI stabilizes. This is one story where I don't think you need a rising gold price to see share price appreciation. I expect BTG to perform very well over the next 12 months, assuming that all operations remain on track and there are no jurisdictional issues that BTG has to contend with.
Itinerant: Vendetta Mining (OTC:VDTAF) is getting close to crystallizing the value of its Pegmont zinc-lead project. I am expecting a sale and a sizeable premium to the current market valuation. It's one of my high-conviction long positions going into 2018 which I have been following closely together with my subscribers for some time now.
Value Investing
Long Hill Road Capital: TripAdvisor (NASDAQ: TRIP) is an enduring business with excellent economics that is seeing a divergence in the operating performance of its hotel and non-hotel businesses. The core hotel segment is struggling and the emerging non-hotel segment is crushing it. The stock has been decimated because the market is focusing on the former and failing to appreciate the value of the latter, which I believe is worth over $3 billion. Given where the stock trades, the market is valuing the core hotel business near $1 billion or close to 1x revenue. I think that is significantly mispriced on either a standalone basis or to a strategic acquirer.
Chris DeMuth Jr.: I would start by lightening up. With market prices high and volatility low, I would start with a bit of housekeeping then will mention one of my best ideas. If you read The #1 Stock In The World and bought VelocityShares Daily Inverse VIX Short-Term ETN (XIV): sell half. If you read Up 78% In The Past Year, Still A Top Pick For The Next and bought Bitcoin, sell half. I still like these for the next 20 years, but would maintain sizing discipline. If you want to hedge equity exposure (especially if you have big short-term gains in taxable accounts that you want to offset without selling), look to the 2x and 3x long ETFs for short ideas.
Once I am done on defense, here is where I would go on offense: VMWare (VMW), Alibaba (BABA), and Tencent (OTCPK:TCEHY).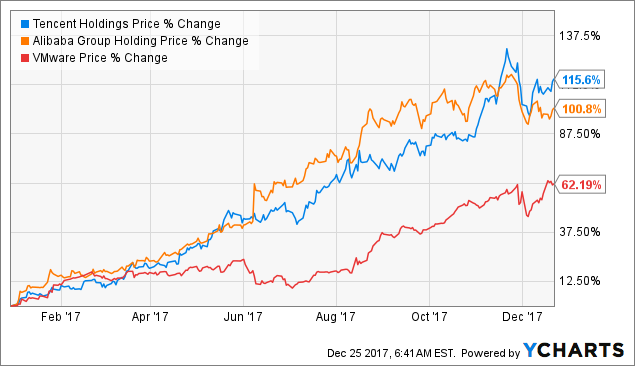 I like exposure to each of these but hate paying for them, especially after they ran up this year. What is a price-sensitive investor to do? Buy them each on sale, via, respectively: Dell-VMWare tracking stock (DVMT), Altaba (AABA), and Naspers (OTCPK:NPSNY). Each offers massive discounts and catalysts to capture that discount. For example, today Altaba (AABA) trades at a 26% discount to its adjusted NAV, much of which is comprised of Alibaba (BABA). Owning a basket of these three parent companies is like getting a second chance at owning their subsidiaries before much of their 2017 run-ups.
General Expert: My best idea is Roku (ROKU). Based on current Seeking Alpha articles and Wall Street research, there seems to be a gross misunderstanding of Roku's place in the ecosystem. Roku is building a distribution network for content in a very capital efficient manner. As it continues to grow, I believe that it will become one of the major media TV distribution channels. Unlike Netflix (NFLX), there is no significant need for capital in order for it to grow.
J Mintzmyer: We've recently unveiled our 'Top Idea for 2018,' which is Navios Maritime Partners (NMM). I've followed this stock for nearly a decade. We avoided them a couple years ago due to their risky balance sheet and market exposure, but they began a massive turnaround in early-2017 that has gone completely unrewarded by the market. We declared NMM as our 'top idea' in late-November when the stock was in the $1.90s. NMM is a rare situation where the bearish downside isn't much lower than the $1.90s, the base case provides over 50% upside, and in bullish scenarios, we could be looking at a triple or even a quad-bagger in 12-18 months. Navios is underpinned by long-term contracts, but their upside depends on continuing strength in the dry bulk markets. As I mentioned above, China is the key player there. If China can keep growing, NMM will likely provide massive returns for investors.
Chris Lau: The DIY service will look for the "alpha" in the shift in medicare in the U.S. (Walgreens (NASDAQ:WBA), CVS (NYSE:CVS)), China's relentless growth (Alibaba, Baidu (NASDAQ:BIDU), Tencent), and growth in ADAS (self-driving cars) so Nvidia (NASDAQ:NVDA), Ambarella (NASDAQ:AMBA), Intel (NASDAQ:INTC), and AR (augmented reality), so looking at Apple, Qualcomm (NASDAQ:QCOM), and Himax Technologies (NASDAQ:HIMX).
Ranjit Thomas: I recently wrote an article on DaVita (DVA). The company is selling an underperforming business worth $5 per share for $25. So that's $20 of value creation. The stock was up only $6 at the time I published and has now trended a little higher, but there is still some upside left with low downside risk.
David Trainer: Synchrony Financial (SYF) – SYF is the largest provider of private label credit cards. It partners with retail giants such as Walmart (WMT), Lowe's (LOW), and Amazon (AMZN) to provide consumers with store-branded credit cards. The high net interest margin earned on these cards helps SYF earn a high ROIC. The company's ROIC is moving back in a positive direction, and increased from 16% in 2015 to a top-quintile 18% over the last twelve months. SYF is the biggest player in the private label credit card market in terms of both number of active accounts and the dollar amount of transactions. More customers and more transactions leads to more data, which SYF can then leverage to more effectively market to consumers. As retailers begin leveraging machine learning in their analysis of customer trends to increase efficiency, the data SYF collects from consumers will become even more valuable. Best of all, despite its track record of improving profitability, SYF trades at a steep discount to other companies in the consumer credit industry. Despite having the second highest NOPAT growth rate over the past twelve months, SYF has the lowest price to economic book value of its peers.

W.G. Investment Research: Citigroup (NYSE:C) is my best idea for 2018 and I believe that there are several catalysts that will help propel C shares higher over the next 12-18 months. The most significant catalyst is the rising interest rate environment, which is already positively impacting the bank's operating results (net interest income was up big in Q3 2017). Pundits are predicting 3 interest rate hikes in 2018 and, if this comes to fruition, Citigroup will be one of the biggest beneficiaries. Additionally, the new Fed chair is expected to be dovish and the financial community anticipates for the current administration to roll back several burdensome regulations in the banking industry, and all of this bodes well for Citigroup, and the other large banks. Lastly, Mr. Corbat, CEO, has Citigroup well-positioned to perform in 2018 and the bank expects to return over $60 billion to shareholders over the next 3 years. Therefore, I believe that there is a lot to like about this bank at today's price.
Jason Phillips, CFA: We tend to hold most of the ideas in our portfolio for more of a matter of months, rather than years. So for us, what may seem like the "best" idea today may not be the case a few months from now. If you had asked me this question at the start of November, I would have answered with companies like Dick's Sporting Goods (DKS), Bed Bath and Beyond (BBBY), or AMC Entertainment Holdings (AMC). But those stocks, with the exception of AMC, have run up considerably since then. AMC still sets up as an attractive trade but I don't know if I would be willing to call it my best idea for 2018. Instead, I'll point to Net 1 UEPS Technologies (NASDAQ:UEPS), which is up 26% since the start of November on the back of news that the company recently inked a deal with Bitstamp. We'll take the recent run-up from the announcement as a welcome bonus, or "icing on the cake" but it isn't necessarily a part of our thesis with the company, and we don't hold a view on the future for bitcoin or cryptocurrencies. I can't help but think that in the future, the traditional physical wallet will be gone, to be replaced by a digital wallet on our smartphones. Particularly, when you look to emerging market economies, for example India, Southeast Asia, and sub-saharan Africa, these markets don't have the traditional payment processing infrastructure in place, meaning there are considerably lower barriers to entry for new payment processing technologies. Having established "proof of concept" in the South African market over the past few years in managing the transfer of welfare beneficiary payments on behalf the government, UEPS is now smartly expanding its presence to other international markets including partnering with Mobikwik in India, where the digital economy is expected to grow by 200% annually between now and 2020. Not to mention that the UEPS technology is also compatible with established technologies, like EMV, meaning the company has the potential to become a truly global payment processing operator. And UEPS's KSNET business alone is probably worth at least 550M of the company's 650m market capitalization which means you're basically getting a free call option on the growth potential of the company's international operations. Hopefully the recent deal with Bitstamp will bring greater attention to the company as when I review the investor day presentation it certainly seems as though this is an opportunity simply being missed by the market.

The Turnaround Letter: General Electric (NYSE:GE) clearly has problems, but investors' frustration with its lost decade (or longer) has led to an overly pessimistic view of the company's prospects. The new leadership has a tremendous opportunity to improve GE's core profitability and to highlight the value of their non-core assets. We think there is considerable value hidden inside of GE amidst all the current uncertainty and doubt.
David J. Waldron: Cable and media giant, Comcast (CMCSA) may have lost to Disney (DIS) in the Fox (FOX) asset grab, but we like CMCSA as a contrarian idea to the cord-cutting fears. Comcast is diversified along the entire cable bundle spectrum and as a major internet provider should benefit from the net neutrality fiasco. Plus, like Disney, Comcast owns a major network, a movie studio, an animation studio, and theme parks. Content is king, and there is no reason Comcast cannot compete with Disney in the Netflix (NFLX) and Amazon (AMZN) streaming wars. CMCSA is currently presenting as attractive in our three favorite valuation multiples: price to sales, price to cash flow, and enterprise value to operating earnings.
Elephant Analytics: I have been primarily focusing on upstream energy companies, and believe that Halcon Resources (HK) has one of the best upsides of those companies. Halcon restructured in 2016 and subsequently sold off all its old assets and became a pure play Delaware Basin producer. It has more than enough cash on hand to carry out its growth plans, with the aim of growing its Delaware Basin production from around 7,000 BOEPD in Q4 2017 to 28,000 BOEPD in 2019.
I believe Halcon's price is currently being negatively affected by continued selling from Franklin Templeton funds, which have sold 13 million shares during the last four months. The Franklin Income Fund ended up being Halcon's largest shareholder when its bonds were converted into post-restructuring equity. However, holding a large amount of Halcon's non-dividend paying common equity isn't exactly in-line with the goal of an income fund. The selling should probably be done in a few months though, and then Halcon should be more fairly valued on its ability to carry out its growth plans.

Biotech
Dr. Tran BioSci: While there are many potentially highly profitable ideas that I discussed with subscribers of Integrated BioSci Investing (and more to come), I vote the best idea of 2018 is Protalix BioTherapeutics (NYSE:PLX). Based in Karmiel, Israel, Protalix is innovating a disruptive portfolio of enzyme replacement therapies ("ERT") to service various orphan conditions, including cystic fibrosis, gaucher as well as Fabry diseases.
While the stock was beaten down in the second half of 2017, it still gained over 21% for the year. 2018 can be a special year for Protalix, as lead molecule PRX-102 (potentially to replace the standard of care for Fabry disease) will post its phase 3 trial results. If the data turns out positive as we prognosticated, the stock has the potential to increase multiple-fold (due to its small market cap and the blockbuster market that it will most likely procure). The early data suggested that PRX-102 exhibits substantially fewer antibodies formation (and antibodies that only remain temporary in the patient's blood), thus making it more efficacious and safe than conventional ERTs.
Protalix recently found a marketing partner (Chiesi) for PRX-102, which adds further merit to the investing thesis (as well as provides the company with needed resources and more funding for this therapeutic innovation).
Terry Chrisomalis: My best idea for 2018 would be Conatus Pharmaceuticals (CNAT). The reason why is because it has a pivotal phase 2 trial result to report in the first half of 2018. It is a major inflection point for the company, because it will prove whether or not its drug emricasan is effective in liver diseases. A good set of results from the phase 2 POLT-HCV-SVR study will likely result in the stock trading higher. It is one of the few biotech companies that is going after both NASH Cirrhosis and NASH fibrosis. There are plenty of other biotech companies going after NASH fibrosis – maybe 100 or more (estimate) – but NASH cirrhosis is an untapped field.
The only other player that I know of going after NASH Cirrhosis is Galectin Therapeutics (GALT), which reported its data. The problem is that it showed that it might achieve statistical significance in a sub-population of NASH cirrhosis patients, but failed to achieve its primary endpoint in the phase 2 trial for the entire NASH cirrhosis population. That means it will have to run a large phase 3 trial to determine if its drug GR MD 02 can help improve the liver of these patients with NASH cirrhosis.
That leaves Conatus as one of the few biotechs left to target NASH cirrhosis. If the results are highly positive, it will not only prove that emricasan works in liver diseases, but it will also validate the rest of the pipeline targeting other liver indications. The other three targets are NASH fibrosis, NASH cirrhosis portal hypertension, and NASH cirrhosis itself. I feel that Conatus has a good shot at succeeding, and is probably a big reason why Novartis has already partnered with Conatus for its emricasan program. If the phase 2 results come out positive, that will lead Novartis to be responsible for the phase 3 study for that indication, and all other liver indications for emricasan.
Jerome Verony: Marinus Pharmaceuticals is on a perfect trajectory – it has a drug candidate that addresses ultra-orphan, pediatric indications (CDKL5 & PCDH19 Epilepsy) and benefits from validation of a very similar asset in multiple, large depressive disorders (PPD & MDD). Their cash runway extends to 2020 and they're in the process of making some important hires. The stock (MRNS) is being added to the NASDAQ Biotech Index (IBB) effective December 18, which will provide further capital inflows in 2018. Last but not least, smart investors including Bain Capital and Deerfield have filed large stakes in H2 2017.
With important catalysts (data readouts and regulatory updates) just around the corner, this is one stock you don't want to miss out on in 2018. I established a position in H1 2017 and I'm still holding on to more than 90% of my shares despite the significant run-up as there's still lots of room for appreciation.
ONeil Trader: It's really hard to pick one as there are several stocks I really like for 2018, but if I had to pick one, it would be Neurocrine Biosciences (NBIX). It probably doesn't have the most significant upside potential among the stocks in my portfolio, but it has a lot of positive things going in its favor – the company recently launched Ingrezza, a treatment for tardive dyskinesia and the uptake has been quite strong and this drug is a potential blockbuster. Neurocrine also has another potential blockbuster, elagolix, which it partnered with AbbVie (NYSE:ABBV) and which should receive approval for endometriosis in 1H 2018 and report top-line results for uterine fibroids in the following weeks. We should also know the fate of the company's third product candidate opicapone after the meeting with the FDA in Q1 2018 – whether Neurocrine will have to do a new phase 3 trial or if it can submit with phase 3 data on hand. And finally, the pipeline will expand with one or two candidates entering the clinic and other trials advancing, like Ingrezza in pediatric Tourette syndrome.
Avisol Capital Partners: I first covered Omeros (NASDAQ:OMER) on Seeking Alpha when it was trading near $13 couple months ago. Just today (response submitted on December 18, 2017), as I published a complete research report on the stock for my subscribers, the stock is up almost 80%, trading near $20. My base case scenario values the stock at $35 in an 18-month time frame; bullish case, I see $100.
The story is simple; this is a <$1billion market cap company with a revenue-generating product and a late-stage pipeline. That product, Omidria, makes maybe about $6million per year. Not much, right? But that is two things few mid-to-small biotechs have; one, a fallback option, and two, a proof of concept for management. Now, their lead product, OMS721, inhibits the complement system – this is the part of the immune system that produces an inflammatory response to tissue damage, trauma or microbial pathogen invasion. When the complement system goes haywire, all kinds of bad things can happen. OMS721 puts some rein on the complement system when it loses control. Thereby, the drug candidate targets a number of diseases like a whole series of thrombotic microangiopathies as well as some complement-mediated renal diseases.
This is the same market where we have the world's most expensive drug, Soliris, making billions of dollars every year. OMS721 is claimed to have some advantages over Soliris. One, it doesn't alter the classic immune pathways – meaning, it leaves the immune system in proper working condition so there's less risk of treatment-emergent infections, which could be fatal. Second, it is taken subcutaneously, or in the case of about-to-be developed small molecules, orally even. Plus of course Soliris is priced at over $750,000 in some geographies. My base case model assumes only $150,000 as the price of OMS721 and gets $35 as the price target. Of course that is laughably conservative. So that's the story. We try to cover stocks like these in two detailed, analyst-firm style research reports every month. These go to our subscribers.
Slingshot Insights: Slingshot Insights doesn't make single name stock picks, but we think highly innovative therapies with meaningful patient impact will be the best performing assets. This means cures, disease modification, or platform plays that bend the curve of cost and life expectancy will be most sought after.
***
Thanks again to you for reading and to our authors for sharing their thoughts. If you'd like to read wider spanning looks at different market sectors, check out this list:
Got any top picks for 2018? Share them below.
Wishing you luck in your investing this year!
Disclosure: I/we have no positions in any stocks mentioned, and no plans to initiate any positions within the next 72 hours.
I wrote this article myself, and it expresses my own opinions. I am not receiving compensation for it. I have no business relationship with any company whose stock is mentioned in this article.
Additional disclosure: Please refer to individual roundtables above for disclosure information.
Related Posts: