Philip Morris International (PM) stock continues to meander. It is our opinion that at $80 a share with a safe and growing dividend the stock is a buy. We believe the fears associated with smoking declines and challenges to get consumers to adopt new nicotine consumption technologies are more than overblown at this point. Let us discuss.
Recent price action
There is no doubt that the stock continues to face immense pressure following its recently reported earnings:

Source: BAD BEAT Investing
We were of the opinion that when the stock hit the $85-86 level, we would see a bounce back into the $90 level. We were wrong on this initial call, but also said that this name was offering compelling value at that level for a longer-term hold. With shares having fallen even further from this level, shares are now not only offering value in our opinion, but look attractive from an income standpoint. Let us discuss first why the Street is pressuring the name, and second discuss the dividend.
From both a trade and an investment standpoint, we have the stock now under $86, and at 18 times earnings, a level not seen in quite some time. Considering our projections for 2018 earnings are $5.20, the stock is at 16 times forward earnings. This is attractive and a level not seen in many months for this stock.
This is in fact exactly what we look for in the BAD BEAT Investing philosophy, a name punished by a relatively strong quarter, driving the yield higher and giving investors prices not seen in two years. We believe that this quarter was very strong as it beat earnings estimates, and revenues were up 14% year over year. In addition, the continued success of its market shift into heated products continues. Let us discuss.
Two charts spooking the Street
Many investors consider PM to be operating in a dying business. There is some truth to this, but we would argue that the market is shifting, and PM has faced pressure to adapt. That said, there is no question that cigarette shipments are down substantially in recent years. Take a look at the last four first quarters: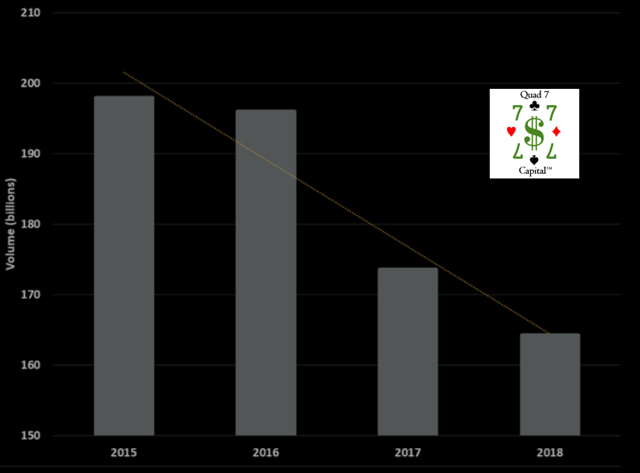 Source: SEC Filings, graphics by BAD BEAT Investing
The trend here is quite clear. Philip Morris is seeing substantial declines in traditional cigarette volumes. It is inarguable and is a result of public health intervention and high taxation placed upon the products by governments, including many excise taxes in major nations that are hitting shipping volumes. These issues are undoubtedly driving greater-than-expected declines in cigarette industry volume, especially in the highly profitable premium segment. In many cases, premium cigarettes are unaffordable. Philip Morris continues its efforts to market effectively and control expenses, while focusing on innovating to ensure the future is profitable.
Philip Morris has made significant investments to drive innovation in the market, and much of the future growth of the company depends on this innovation. Bullishness in the stock a year or two ago was driven by the advent of heated tobacco products. The near exponential growth in these products helped to offset cigarette shipment declines and helped boost revenues versus recent years. The growth was impressive, but we have to tell you the last bar on the following chart is a primary reason in our opinion that the stock sold off tremendously and is struggling to rebound: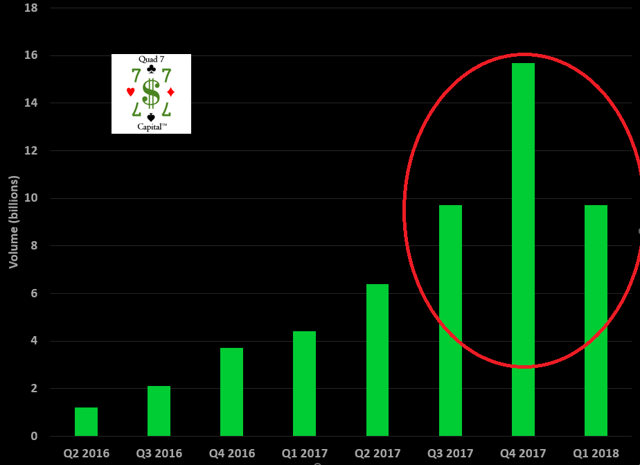 Source: SEC filings, graphics by BAD BEAT Investing
Note the near exponential growth through Q4 2017. The hammer fell last quarter and shipment volumes were down tremendously. Why? Well, some of the decline was expected as in 2017 the company was having trouble supplying the products globally, including needing to air freight tons of HeatSticks into Japan. By the end of the year, capacity could meet demand, but the shipment numbers were a bit inflated as shown in the last part of the chart above. That said, even after rationing out its products from factories in Europe, the global demand did slow in Q1. That has investors rushing for the exits. We believe it is premature. The implosion in shares stemming from these two charts ignores revenue and earnings strength overall, and completely ignores the now high dividend yield (and growing dividend payments) that the company and stock provide.
What the Street is ignoring
The jump in revenues stemming from the growth in heated tobacco product shipments in recent quarters has more than offset losses from reduced cigarette sales. Reduced risk products accounted for $1.1 billion, or 16% of revenues in Q1, and we project that an increased proportion of revenues will stem from heated tobacco products. While revenues were facing pressure over the last few years, PM's Q1 revenues have begun to reverse higher, and this is something that we believe is being largely ignored. Overall, sales are moving higher as shown in the most recent four Q1s: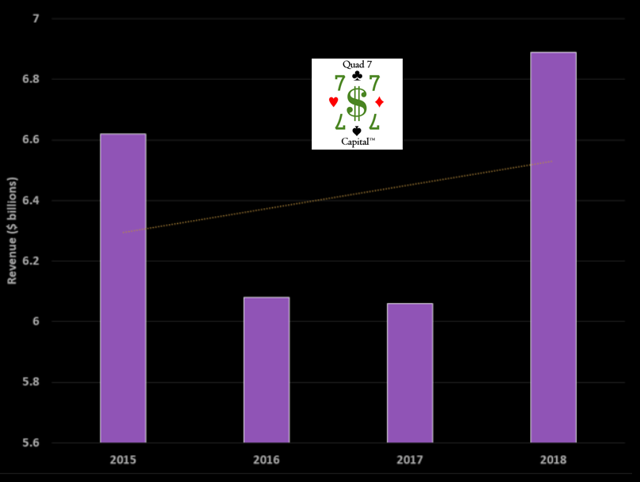 Source: SEC Filings, graphics by BAD BEAT Investing
There remains a bountiful market in third-world countries for traditional cigarettes, even if it is a dying segment as we showed above. In countries with strong public health infrastructure, the introduction of new products, as well as pricing power has driven revenues higher, even if shipments were down in Q1.
What the Street is largely ignoring is that the company took in revenues that were up 14% year over year to $6.89 billion. This is such a positive result, because in recent quarters, the company has seen trouble on the revenue side, registering either flat or down sales in many cases. We see a rise of 14% in sales as incredibly strong. This revenue pattern reversal was a welcomed trend and stems from the increase in sales of the new heated tobacco products.
What we also find somewhat intriguing is that combined with growing revenues we also have stable earnings in the last few Q1s: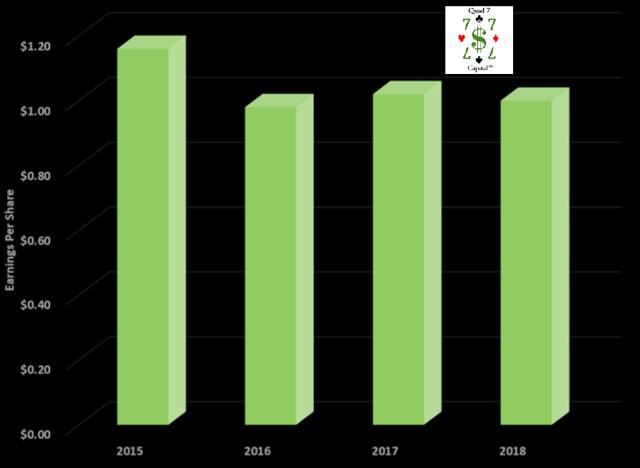 Source: SEC Filings, graphics by BAD BEAT Investing
Primary reason that earnings per share did not rise along with the revenue jump is that cost of sales jumped 20% to $2.65 billion, up from $2.17 billion last year. In addition, marketing and research costs rose 26% to $1.83 billion. The primary reason for these increases stems from a shifting market focused on heated products and less combustible products. Although expenses have crept up weighing on margins a bit, we think the stabilization of earnings as the company is in the midst of huge market shift product-wise is a positive. Factoring in expenses, the company saw earnings of $1.00, down $0.02 from last year. These bottom-line results actually beat estimates by $0.10, and that is being largely ignored by the Street since share prices are just above $80 at the time of this writing. This has led to the stock offering a tremendous yield, and despite us arguing for value back at $85, the name now offers real income.
There is no doubt that Philip Morris is a dividend champion. With shares at $80 right now, you can pick up a 5.3% yield right now in shares. This is higher than we have seen in years in the name. With the dividend being paid at $1.07 per share, and likely to be raised again this year to $1.09-1.10, value dividend growth hunters should have Philip Morris on their list. Just look at the dividend growth in recent years: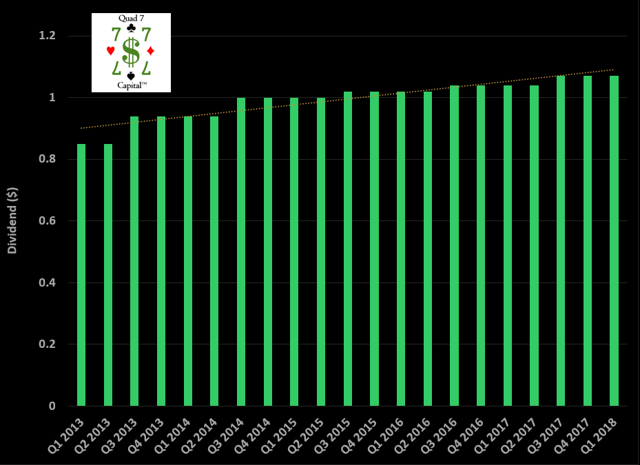 Source: Data from Street Insider, graphics by BAD BEAT Investing
The dividend continues to be increased, and at a 5.3% yield, investors are getting the best dividend yield they have seen in a decade at present levels. We don't think investors should have any concern about the company's dividend. Cash flows are still more than $7 billion while dividends paid are $6 billion. There is something else many investors are ignoring. This was the first quarter in years where currency had a favorable impact on earnings and cash flows. What is more, during the conference call one comment stood out:
If currency continues favorable or gets more favorable and stays that way and we continue to see the success in the business that we're having at some point we're going to have to sit down with the board and decide what's the best way to reward shareholders whether that be dividend increases or whether it be stock buybacks."
To be clear, we expect another dividend increase this year, but if the company could afford it, a buyback would boost shareholder value by increasing earnings per share and reduce the total amounts paid in dividends. However, the company is currently working on servicing debt levels and bringing leverage down, so this seems unlikely, but would be welcomed. Overall, we see the dividend as secure.
Take-home
Investors are selling thanks to the declines in cigarette volumes, the surprise drop in heated tobacco unit shipments, and compressed margins. We believe it is more than overdone and investors should take note that overall revenues are up while earnings have stabilized. Dividend growth investors should note we have a dividend that continues to grow and is adequately covered by cash flows. The dividend is secure. While we saw value in the name at $85, we see a decade high-yield as extremely compelling in this value stock.
Quad 7 Capital has been a leading contributor with Seeking Alpha since early 2012. If you like the material and want to see more, scroll to the top of the article and hit "Follow." Quad 7 Capital also writes a lot of "breaking" articles, which are time-sensitive, actionable investing ideas. If you would like to be among the first to be updated, be sure to check the box for "Get email alerts" under "Follow."
Now Just 3 Spots Left. Ready to start winning?
Our introductory pricing at 46% off the annual rate is only available to 3 more paying subscribers. After this the price will nearly double as the community continues to grow.
We find beaten-down stocks and profit from their reversals, just like this idea!
Swing trades are suggested almost daily, along with frequent deep value plays.
Dozens of investors are winning, thanks to ideas like this and our members profit daily.
We've generated thousands of profitable ideas, but our best ideas are reserved for our members.
Invest in your future by joining BAD BEAT Investing today!
Disclosure: I am/we are long PM.
I wrote this article myself, and it expresses my own opinions. I am not receiving compensation for it (other than from Seeking Alpha). I have no business relationship with any company whose stock is mentioned in this article.